Artist Statement – Module 7 Cultural Geography

Image 1              "Looming Clouds, Lac du Bois Grasslands", Digital Print 13inx19in
Image 2              "Light in the Sky, Lac du Bois Grasslands", Black and White Digital Print 13inx19in
Image 3              "There Used to Be a Secret Garden Behind the Lilac Hedge", or "The View From My Garbage Bins" Digital Print 13inx19in

Kim Naqvi began her lectures with the idea that elements of culture are the visible expression of invisible beliefs.  It is with this understanding that I look at our city to understand the demonstration of what we believe to be important, or not.

The work I created for this module consists of 3 photographs. The first two are intended as palate cleansers.  Landscapes without overt human intervention with both foreboding and optimistic overtones. The final photograph is a small documentary of the hot mess of reactions I have to the changes occurring in my neighbourhood. It shows a yellow excavator out of focus on a residential building site behind a bright orange plastic safety fence. In the bottom foreground behind the fence are lilac shrubs in with white blossoms.
Artist Statement – Module 5 Reconsidering plants and people
12 Images "Round Holes and Square Pegs", paint on birch panels 12" x 6" with painted laser cut inserts
Lyn Baldwin's experience of botany research and collection pivoted during the pandemic from local grasslands to her own garden and neighborhood. She noted that there were more species in her garden surveys than in the grassland surveys. Yet, unlike the grassland species, she acknowledged that the species in her garden would be like domestic gardens around the world. It is a curious example of global homogeneity and local diversity.  Historic aerial photographs show that where her garden exists there had once been grasslands.
My work for this module is a series of double-sided birch panels with laser cut outs of circles and squares. The circles and squares are painted with a variety of colours, some vivid and some subdued representing natural and unnatural elements in our city scape. The background, or ground panels are left natural wood, or painted with lines and irregular rectangles.  The intent was to show different colour palettes of our surroundings and to show that plants and human-made interventions are interchangeable; sometime leaving a hole, or creating beauty, or just disappearing.
Module 4–  Artist Statement
Image 1 and Image 2 "We Are All Connected" Dyptych, 13"X19" digital prints
The predominant colours of these images are grey rock and moss carpets, The first image is a macro photograph of some tiny vivid orange plants that look like grass, complete with "seed heads". The second is a rocky mossy ridge with a boulder balancing on the horizon and a tiny vivid orange power line running up, over and into the distance.  
These works were composed after pondering places that I felt sacred. It tickled the sense of the sublime bewilderment I feel about our ability to build things. Somehow there is a connection between the tiny and ubiquitous to the inevitable constructedness that we people drape everywhere.
Module 3–  Artist Statement – Elizabeth Sigalet
Image 1 As a flaneuse, what I saw on my walk starting from the Kenna Cartwright Park Bunker Road parking lot between the yard waste / recycling depot and the Equinix Data Centre, 12 inch x 12 inch  birch panel, laser cut, BEAM watercolour paint, and wax
The video below is a visual form of an artist statement, showing some of the process of getting to the final work. Perhaps it provides some insight into the work. The video is an Adobe Lightroom slideshow including a small percentage of unprocessed digital images collected during the walk. Also in the slideshow studio works including  some artist sketchbook renderings, digital sketches, and a short clip of the Snapmaker A350 producing the laser cut.
Module 2 –  Artist Statement – Philosophy and Place
Image 1 Draft works
Image 2 Sproat Lake Inside My Daily Walk, 14 x 30 in Acrylic on board
Image 3 Walking Shoes, 5 x 7 in Graphite on Card
Image 4 Inspired by Heidegger and Sproat Lake, Acrylic on canvas board, 12x16 in
I was very taken with the idea the art can show the truth in the struggle to explain the connection of earth and the world. Wait, is that the idea?
Worldly and earthly aspects of "the shoe" appear in artwork.
Connecting the world to the earth. The truth of it. Not the artist, but the artwork itself. Well, what is my world? I suppose that is about identity – I draw in the world of a resource industry family in Kamloops. The earth is our valley. I can no more negate Walmart than I can the Farmer's Market. Cars vs horses. Time immemorial vs international students. The truth of it in art? In a pair of shoes? What is my pair of shoes? Heidegger mistakenly translating Van Gogh's city shoes to those of a peasant woman. Or not. It doesn't matter, there is still truth in that painting. For we do look at Van Gogh's painting of his shoes, not a photograph of a peasant's shoes. Heidegger looks for truth in something that is removed from the world, his world, which he can make his earth.
Well. What is my world, my earth and how can I identify something that is of both yet brings some truth? Landscapes. Are they escapes? E-scapes. 
Consider my paintings of trees. It is a rather backwards assessment of trying to find the connection of world to earth and to show in artwork the idea of the thing.  I have been drawn (ha) into the interior view of landscapes. The immensity of the miniature. The landscape as a place of reverie. Being inside-the-outside for the connection of world and the earth.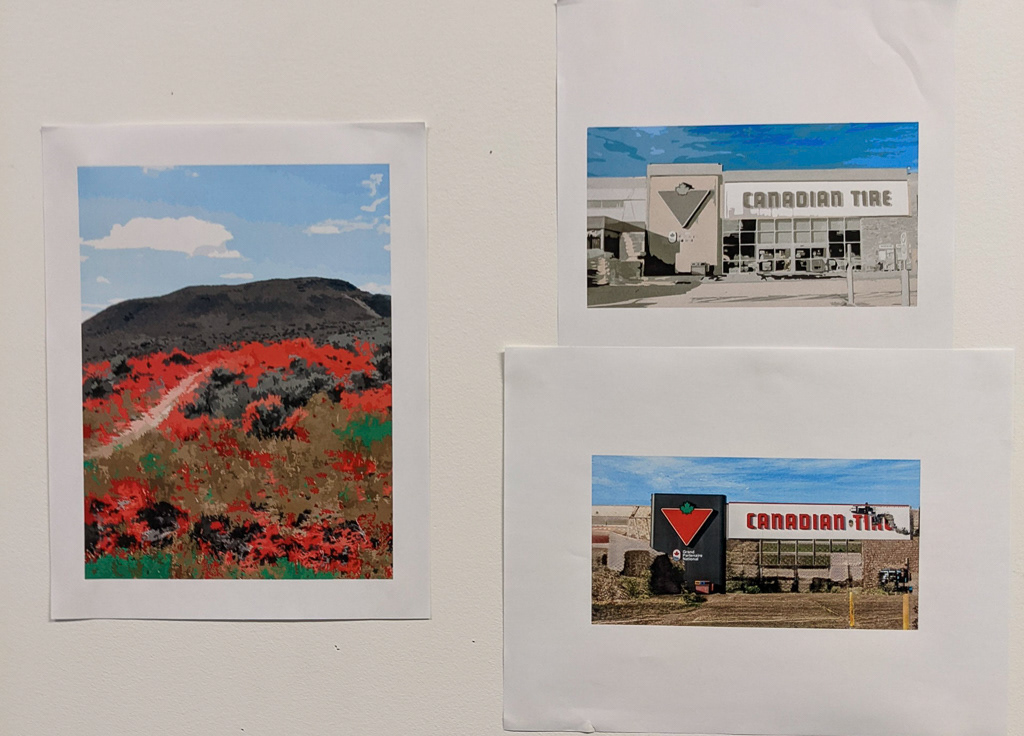 Artist Statement – Module 1 – Visual Art and the Contemplative Practice of Writing
Image 1                Draft works Digital prints 8.5x11 plain paper
Image 2                Kamloops grasslands in the palette of Canadian Tire, digital image
Image 3                Canadian Tire in the palette of Kamloops grasslands, digital image
Image 4                Photoshop A1 landscape merge of Canadian Tire and Kamloops grasslands, digital image
Considering three questions:   What is it that identifiably associates an artist with a particular place? How does place nurture an artist's creative engagement with their community or the land?  How does an artist's creative engagement alter their community and its relationship to the land?
I was particularly struck by the idea from Robert McFarlane about walking ancient trails and being delivered to the contemporary and the subtle ways we are shaped by the landscapes through which we move. I listed my places, those that I move through every day and realized that a good number of those places included streets, roads, sidewalks, grocery stores, other stores, galleries, and restaurants.
My work contemplates the palettes of my community. I think of grasslands of Kamloops as defining my sense of where I am from. Yet daily requirements of travel and life take me on city streets and to stores for food and wares more than they take me to sage-lined walks. To transpose the palettes of grasslands and stores brings an interesting recognition of seeing things in different hues, or how we perceive the hues of our lives and environment.  Artificial Intelligence filters in Photoshop proved another insight to what exists that might be transposed to provide a new way of seeing our place.